Library Reading Series
Presented by the Bath House Cultural Center, in collaboration with One Thirty Productions and the Dallas Public Library.
These staged reading are presented at Fretz Park Branch Library and Lochwood Branch Library.
---
2019-2020 Season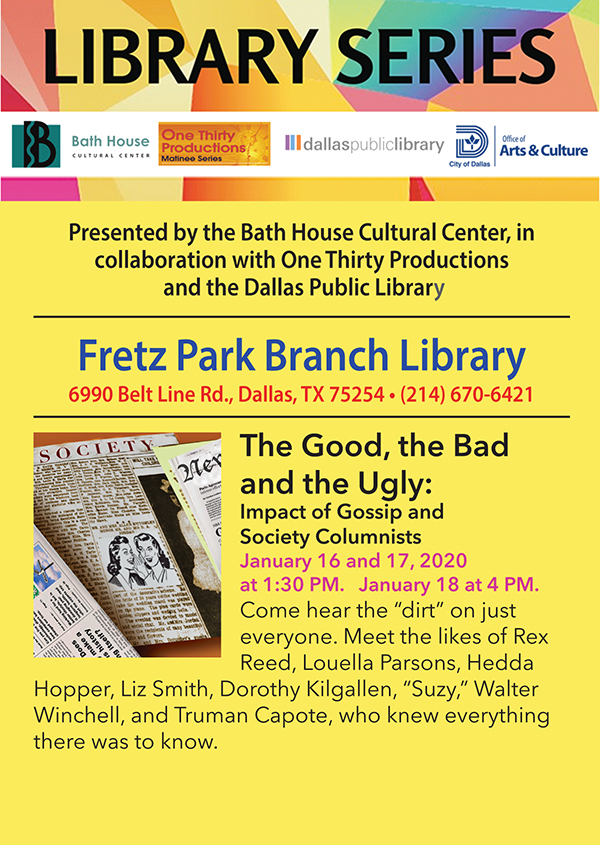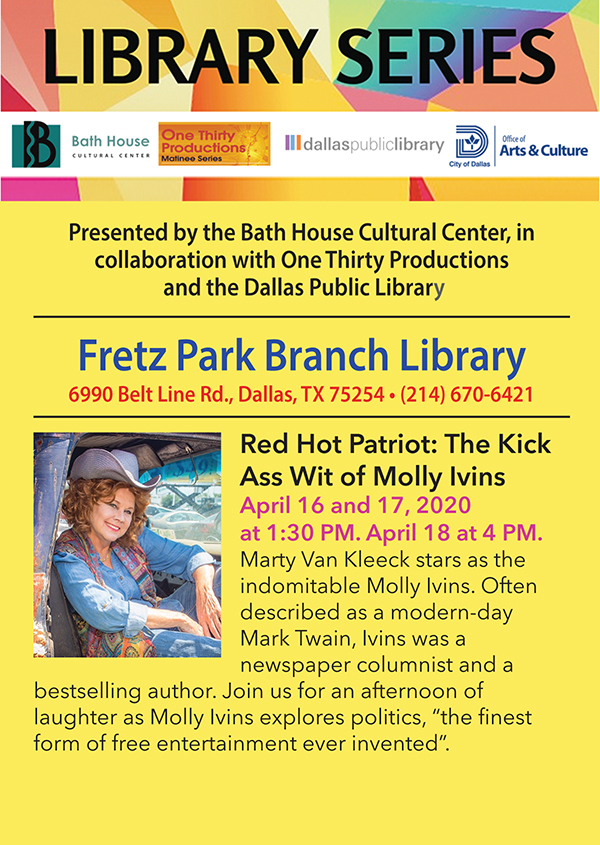 ---
COMING UP


Library Series at Lochwood Library • Summer and Fall 2020
11221 Lochwood Blvd, Dallas, TX 75218
Man's Best Friend: Great Dog Stories
June 18th and 19th at 1:30 and June 20th at 4:00
What would life be without a dog?  Have you met Baily in A Dogs Journey?  Do you remember Benji,  Marley and Me, 101 Dalmatians, Old Yeller? The Thin Man had Asta, FDR had Fala, Queen Elizabeth has her corgis and most of us just have  wonderful mutts. But it makes no difference because dogs of any description enrich our lives. Great dogs breed great stories.
Literary Sisters
July 16th and 17th at 1:30  and July 18th at 4:00
The English have produced some amazing literary sisters. Charlotte, Emily and Anne Bronte wrote poetry and novels that have become classics. Their lives on the Yorkshire Moors were lonely and they turned to writing to pursue their romantic fantasies.     Join us as we contrast these frail young women with the controversial, outspoken aristocratic Mitford Sisters who are the stuff of myth and fascinate us even today.
Go West, Young Man: Great Stories of the American West
August 20th and 21st at 1:30 and August 22nd at 4:00
Simply being set in the west is not enough to qualify as a great western story. Early on Ohio and Kentucky were the west, but the lure of gold, the promise of free land, a great adventure and a new chance in life pulled man ever more westward. Join us as we look at stories by Larry McMurtry, Louis L'Amour, Charles Portis, Zane Grey, Cormac McCarthy and Jack London.
Having Our Say: The Delany Sisters First 100 years
September 17and 18th at 1:30 and September 19th at 4:00
The Delany sisters take us on a remarkable journey through the last 100 years of our nations history, recounting a fascinating series of events and stories drawn from their rich family history and careers as pioneering African professionals.