The Bath House Cultural Center's galleries showcase artists from Dallas and all over the world. From solo exhibitions to popular annual group shows, including "El Corazón," and "El Día de los Muertos (The Day of the Dead)," the Bath House is a vital resource for the visual arts community in Dallas. Gallery talks, artist lectures, workshops, arts and crafts sales, and classes create an environment where both artist and viewer can be creative.
---
Now on Display in the Galleries
The Extraordinary Tale: Magic Realism in Art
May 6-June 3, 2017
Reception with the artists: Saturday, May 6, 2017 (7-9 PM)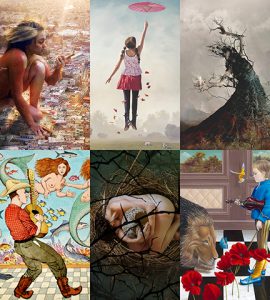 The Extraordinary Tale explores and celebrates the technical, aesthetic and thematic elements that are associated with the genre of Magic Realism.  Although most commonly associated with Latin American 20th Century authors, the artistic style of magic realism also applies to different forms of arts, such as photography, painting, film, and other media.  The genre usually depicts a world that is anchored in everyday reality, but is also populated by settings or subjects that possess overtones of fantasy and wonder.
An important characteristic of magic realism is that the viewer must accept the unreal as a natural part of reality.  Other art styles, such as surrealism, symbolism, or fantasy art, rely on the creation of hypothetical worlds that are used to accommodate the imaginary.  Magic realism, on the other hand, uses the real world as the setting and any incredible components of the story are presented naturally as if they were always part of that world.
Author Matthew Strecher gives, perhaps, the best simple definition of Magic Realism when he describes the genre as "what happens when a highly detailed, realistic setting is invaded by something too strange to believe."
The exhibition includes works by artists from Texas, California, North Carolina, Mexico, and El Salvador.
The show features art by: Rita Barnard, Tatyana Bessmertnaya, Paul Bond, Jacque Forsher, Ginger Fox, Maria Teresa García Pedroche, Chema Gil, Rebecca Guy, Cesar Mateos, Chuck McCarter, Rusty McDonald, William Battle Montgomery, Rebeca Navarro, Sharon Neel Bagley, Sharon O'Callaghan Shero, Silvia Parra, Jorge Rey, Brenda Robson, Shawn Saumell, Armando Sebastian, and Jeanne Sturdevant.
The exhibition was curated by Enrique Fernández Cervantes.
---
Contemplation: Photographs by Gabrielle Castañeda Pruitt

May 6-June 3, 2017
Reception with the artist: Saturday, May 6, 2017 (7-9 PM)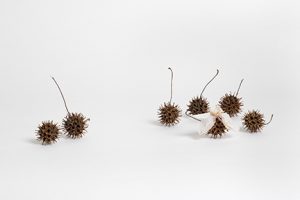 Fine art photographer, Gabrielle Castañeda Pruitt, states that the images included in her new exhibition, Contemplation, allow the viewer to take a look inside her visual journal.  All the photographs that are featured in the show, according to the artist, give her an opportunity to record and put feelings and colors to fine art paper.
Gabrielle's predilection for looking at the world around her with a keen and curious eye has led her to discover aspects of her surroundings, through careful observation, that continuously reveal everyday beauty, soulfulness, and visual significance.  The artist explains that she immerses herself visually and mentally in the natural world to gain inspiration for her artwork.  She declares: "As I go through my day, I often see objects that make me stop and question what has caught my eye: a shape, a color, a texture?  I become electrified with that first encounter.  According to what chord it has touched within me, this exchange becomes the springboard for crafting an image."  She concludes by comparing the process of creating her photographs with the process of writing a song in light and shadow.
Gabrielle was born in Caracas, Venezuela, and was raised in rural Oklahoma.  The artist has lived in north Texas for many years.  She has an impressive record of exhibiting, jurying, and curating art shows.  The photographer has displayed her work in several art venues, including the Bath House Cultural Center, the Latino Cultural Center of Dallas, the Black Box Gallery in Colorado, A Smith Gallery in Johnson City, Texas, and LuminArte Gallery.  She studied photography and art at Collin College in Plano where she received the instruction of esteemed artists June VanCleef, Chris Regas and Byrd Williams III.  The work of the photographer is found in multiple public and private collections.
---
The Bath House Cultural Center is a member of the Dallas Art Dealers Association.