Gallery Programs

The Bath House Cultural Center's galleries showcase artists from Dallas and all over the world. From solo exhibitions to popular annual group shows, including "El Corazón," "ART214," and "El Día de los Muertos (The Day of the Dead)," the Bath House is a vital resource for the visual arts community in Dallas. Gallery talks, artist lectures, workshops, demonstrations, and art sales, create an environment where both artist and viewer can be creative.
---
Public Art Near the Bath House
The Office of Cultural Affairs' Public Art Program manages the commission and acquisition of new public art as well as the conservation and maintenance of the existing City art collection. Works of public art, many created by local and regional artists, enliven parks, libraries, fire stations, recreation centers and many more public locations in Dallas.   For more information about the Office of Arts and Culture's Public Art Division, CLICK HERE.

The Bath House Cultural Center is surrounded by three art pieces that are part of the City of Dallas Public Art Collection: "A Place to Perform" by Linnea Glatt, "Whirl" by John Christiansen, and "Resaca" by Bradford Graves.
READ MORE ABOUT THESE PUBLIC ART PIECES HERE
Muralism Program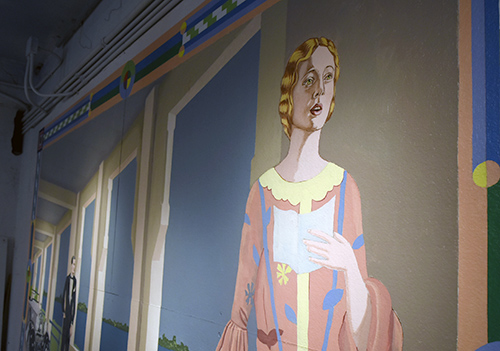 The Bath House Cultural Center's Muralism Program was created in 2016 with the goal of fostering the growth of local visual artists who are interested in learning traditional and modern techniques of the art of mural-size painting.  In addition to the benefits gained by the participating students, the Muralism Program, under the instruction of artist Genaro Hernandez, also provides opportunities for community involvement, educational development, and enhancement and beautification of the center.  The Muralism Program takes place in the building's lake-level studio.   Students meet on Saturday afternoons and the public is encouraged to see the artists at work during their painting sessions.
---

The Bath House Cultural Center is a member of the Dallas Art Dealers Association.