There is no charge to enter the Bath House; however, some events and performances may charge an admission fee. Please check ahead for possible fees.

Location and Hours
521 E. Lawther Dr.  Dallas, Texas 75218 • White Rock Lake
The Bath House Cultural Center is open Tuesday-Saturday from 12 to 6 PM.  The center is open until 10 PM on nights with theater performances.
Directions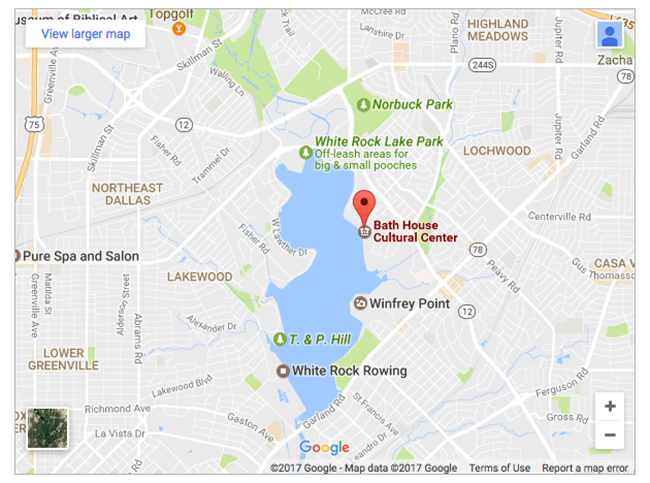 The Bath House Cultural Center is located on the eastern shore of White Rock Lake at the end of Northcliff Drive, off of Buckner Blvd. Transit to the Bath House via E. Lawther Drive is blocked off. Please access the center from Northcliff Drive off Buckner Blvd.
---
Contact Our Staff
Jessica Trevizo
Manager
(214) 670-8722 |jessica.trevizo@dallas.gov

Stewart W. Mikkelsen
Performing Arts / Technical Coordinator
(214) 671-0060 | stewart.mikkelsen@dallas.gov
Analise Minjarez
Cultural Programs Coordinator
(214) 670-3725 | analise.minjarez@dallas.gov
Enrique Fernández Cervantes
Visual Arts Coordinator / Curator
(214) 670-8723 | enrique.fernandez@dallas.gov