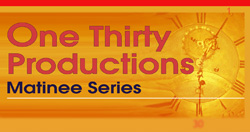 Dallas' One and Only Matinee Series!    
Presented in cooperation with the Bath House Cultural Center and the City of Dallas Office of Cultural Affairs.
Make reservations now to see a great show, stroll through the art galleries, and be on your way home by 3:30!
The matinee series is a great idea for your Red Hat Group, your Sunday School class… or just a group of friends. All performances start at 1:30 pm, Wednesday, Thursday, Friday and Saturday. Group rates are available for ten or more people.
2017: Season 10 
Grace and Glorie
Tea for Three
Trip to Bontiful
It's a Wonderful Life, A Live Radio Play
NOW OFFERING RESERVED SEATS!
Information / Reservations:
www.onethirtyproductions.org
214-532-1709