Dallas' One and Only Matinee Series!

Presented in cooperation with the Bath House Cultural Center and the City of Dallas Office of Cultural Affairs.
Make reservations now to see a great show, stroll through the art galleries, and be on your way home by 3:30!
The matinee series is a great idea for your Red Hat Group, your Sunday School class… or just a group of friends. All performances start at 1:30 pm, Wednesday, Thursday, Friday and Saturday. Group rates are available for ten or more people.
2017 – Season 10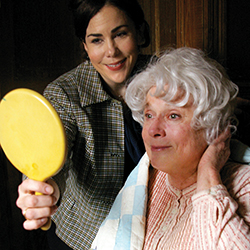 March 8th –March 25, 2017
Grace and Glory
By Tom Zigler
Grace and Glorie returns to One Thirty Productions by popular demand. Grace and Glorie is a heartwarming story of two women from very different worlds. Grace, a cantankerous woman of sixty years plus plans to live out her life high in the Blue Ridge Mountains in the little cabin she calls home. The old stove smokes, there is no phone and there are chickens on the front porch. When Grace breaks her hip, the local hospice sends Gloria a social worker and volunteer to "help" Grace. There are laughs and a few tears as these women come to know each other and become good friends.

Performances: March 8, 9, 10, 11, 15, 16, 17, 18, 22, 23, 24, 25.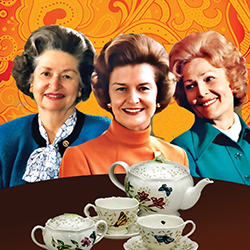 May 10-27, 2017
Tea For Three
By Elaine Bromka and Eric H. Weinberger
Elaine Bromka gives an overview of the kindly and dutiful lady Bird Johnson, the welcoming but wounded Pat Nixon, the chatty and bold Betty Ford in recollections that are light without being trivial we learn of their feelings, their opinions of the country and their plans for the future and she gives an indirect look at the changing roles of women during dynamic times.
Performances: May 10, 11, 12, 13, 17, 18, 19, 20, 24, 25, 26, 27.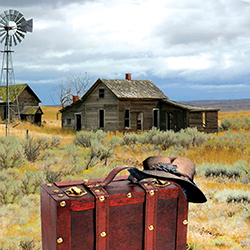 October 5-15, 2017
Trip To Bountiful
By Horton Foote
In a joint production with Brookhaven College, Gene Raye Price stars as Carrie Watts, an elderly woman who longs to escape her cramped Houston apartment where she lives with her son Ludie and her daughter-in-law, Jessie Mae. Carrie yearns to return to her hometown Bountiful one final time.
All performances will be held at Brookhaven College.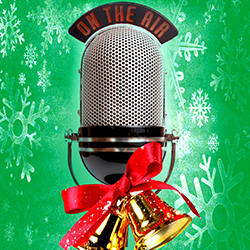 November 29-December 16, 2017

It's a Wonderful Life, A Live Radio Play
By Joe Landry
Starring B. J. Cleveland, this beloved American Holiday classic comes to captivating life as a live 1940s radio broadcast. Five actors supported by a sound effects man deliver the lines of all of the characters from the movie. This production is a fresh and inventive way of reconnecting with a classic story of love and redemption. It's a love story that you want to witness over and over again.
Performances: Nov. 29, 30, Dec. 1, 2, 6, 7, 8, 9, 13, 14, 15, 16.
NOW OFFERING RESERVED SEATS!
Information / Reservations:
www.onethirtyproductions.org
(214) 532-1709