Dallas' One and Only Matinee Series!

Presented in cooperation with the Bath House Cultural Center and the City of Dallas Office of Arts and Culture.
Make reservations now to see a great show, stroll through the art galleries, and be on your way home by 3:30!
The matinee series is a great idea for your Red Hat Group, your Sunday School class… or just a group of friends. All performances start at 1:30 pm, Tuesday, Wednesday, Thursday, Friday and Saturday. Group rates are available for ten or more people.
2020 – Season 13
Due to building renovations occurring at the Bath House Cultural Center in 2020, the first three shows of Season 13 will be presented at LOCHWOOD BRANCH LIBRARY, located at 11221 Lochwood Boulevard, 75218.
March 11-28, 2020
Driving Miss Daisy
Pulitzer Prize Winner by Alfred Uhry
Gene Raye Price stars as Miss Daisy, the feisty Atlanta widow, who is less than happy when her son takes away her car keys after she drives through a neighbor's garage and garden shed. Although Miss Daisy is stubborn and unhappy about the idea, he hires a driver for her. She begins a twenty-five- year relationship with Hoke Colburn.  The slow, uneven years that follow shift their lives towards friendship and a greater appreciation of the other.
March 11, 12, 13, 14, 17, 18, 19, 20, 21, 24, 25, 26, 27, and 28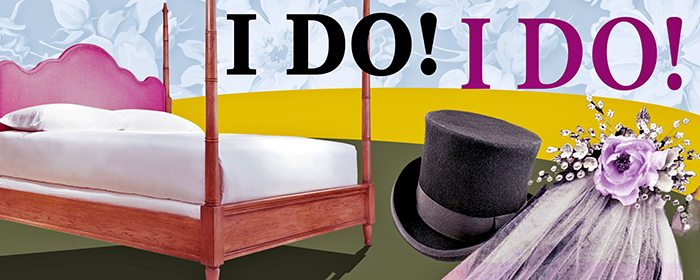 May 6-23, 2020
I Do! I Do!
Book and Lyrics by Tom Jones, Music by Harvey Schmidt
Based on the novel, The Four Poster, chronicles the ups and the downs experienced by Agnes and Michael Snow throughout their fifty- year marriage.  Spanning the years from 1898 to 1946, this touching story of two soul mates is filled with humor, a fine musical score and two delightful characters.
May 6, 7, 8, 9, 11,1 3, 14, 15, 16, 19, 20, 21, 22 and 23
October 6-17, 2020
Fireflies
By Matthew Barber (author of Enchanted April)
A story of love late in life, Fireflies is set  in the small Texas town of Cloverdell where Eleanor taught school for decades. A respected member of the community, Eleanor is lonelier than she lets on. She becomes curious when Abel, a "drifter" who has parked his trailer home in the area. Sparks fly between the two! A lovely, humorous story of two people who find each other, Fireflies is a must see!
October 6, 7, 8, 9, 10, 13, 14, 15, 16 and 17
NOW OFFERING RESERVED SEATS!
Information / Reservations:
www.onethirtyproductions.org
(214) 532-1709