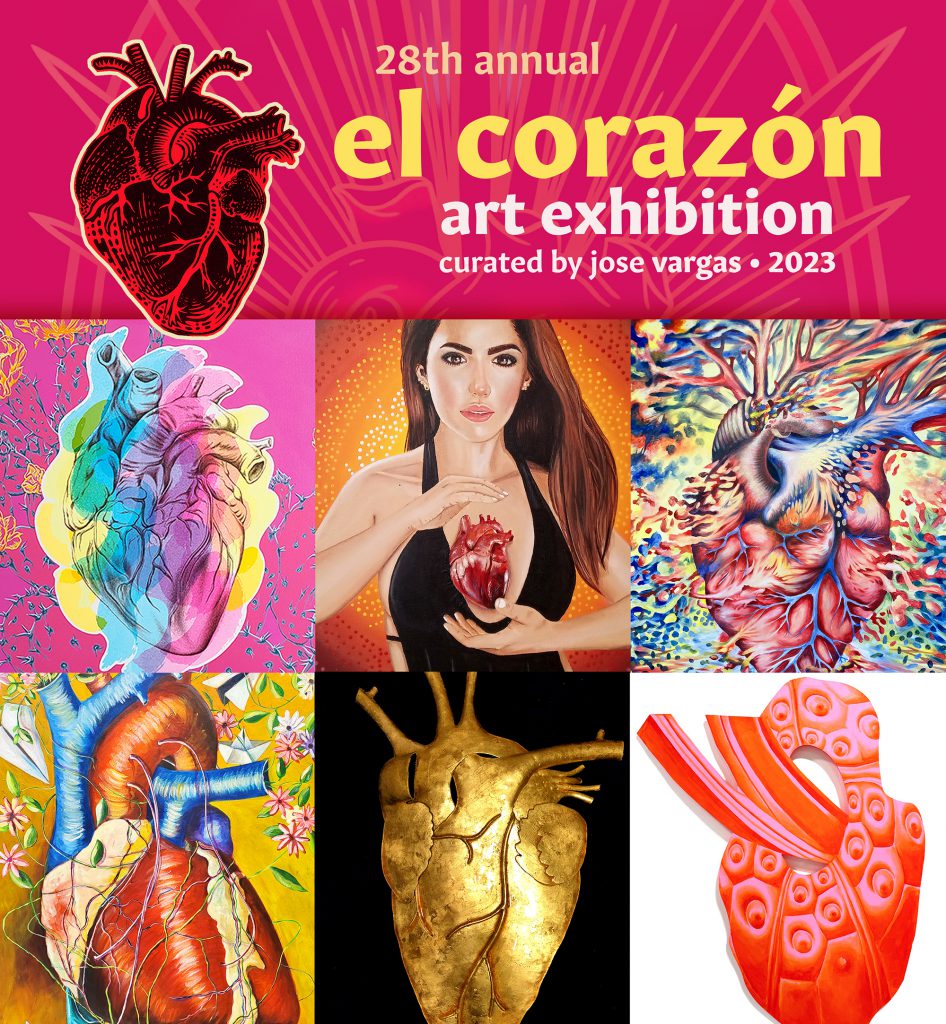 Exhibition: 28th annual El Corazón Exhibition – February 4-March 4, 2023
Matthew Arnold
An Elevator Shaft Where Her Heart Should Be
My art is reflective of my personal experiences and my struggles with mental illness; it uses collected sayings from friends or myself in the form of written words; and it incorporates collaged, painted images, cartoons and ironic statements. I work in a stream-of-consciousness style, creating images without much of a plan or intended finished product. My influences include American folk art, specifically quilt-making, and jazz music from the mid 20th century. I use mostly acrylic paint, acrylic pens and oil pastels on either canvas or birch wood.
https://cargocollective.com/mattarnold
arnold904@gmail.com
(312) 451-4898
https://www.instagram.com/matteo_deville/
Elizabeth Bentley
Duplicity
Each day as I enter the clay studio, I'm filled with excitement and a bit of trepidation. Excitement because I love working with clay … love the tactile feel of it in my hands … love the way it responds to pressure. Trepidation? Yes, because sometimes I don't have the slightest idea of where the creative process will take me that day.
While my pieces begin with a general concept, that concept can (and does) change as the piece develops. Inspiration comes from personal experiences, nature, mystical stories and other artists. Rather than duplicating them in a realistic way, I capture the feelings that they invoke. This gives my work a less formal, more spontaneous, quality.
lizzieb@designwiz.com
https://www.facebook.com/TXLizBug
https://www.instagram.com/tx_lizbug/
David Blow
Burning Love
"Burning Love," the red rose is a symbol of LOVE. I have incorporated fractals as a never ending spiral of love's repeated burning glow through time. The pattern of hearts feed the fire of the passionate rose.
daviddblow@aol.com
(940) 321-1671
Lindsay Brennan
Sacred Heart
Lindsay Brennan is a versatile artist who creates mostly religious and inspirational works, striving to inspire others to reflect on and pursue truth, justice and goodness. She enjoys experimenting with various media and symbols. She has traveled several times to Uganda and, consequently, brings her love of Africa as well as interest in African American culture into her work. This image of Jesus Christ holding his Divine Heart was created for the students of Sacred Heart Primary School in Nyamuha, Uganda. Lindsay Brennan can be found online at http://www.beautyoftruthdesigns.com
lebrennan314@gmail.com
@beautyoftruth
Bradley Cleaver
Overgrown or Not Quite
This piece explores the necessary equilibrium between vulnerability and hard heartedness. It is a balancing act between two seemingly opposed ideas that ultimately need to work in tandem to achieve healthy relationships.
We must be vulnerable in all relationships but not to the point of self destruction however, being completely unprotected can lead to the same fate. Therefore it is imperative to keep the "overgrowth" at a manageable level.
bcleaver@udallas.edu
http://www.instagram.com/oldscratchpottery
Jorge Domínguez Cruz
Inner Force
Jorge is originally from the indigenous Huasteca region of the state of Veracruz, Mexico. More specifically, he is from the Tenek de Mata de Otate community in the city of Chontla. Jorge is a self-taught painter who creates and produces highly detailed scenes with passion where he reveals his innermost self. "Explosive surrealism" is the hallmark style used by the artist to depict how he feels, live and imagines.
The heart, an inner force that creates and transforms life's emotions and thoughts, is seen in this painting as an amazing explosion that brings about a harmonious coexistence with its surroundings. The heart transmutes the space, altering and generating passions and joy, and becomes the center of a magnificent universe.
https://jorgedominguezarte.blogspot.com/
jorge_arte_surrealista@hotmail.com
(214) 274-8095
https://www.facebook.com/JorgeDominguezCruzArte?mibextid=ZbWKwL
https://jorgedominguezarte.blogspot.com/
Dale DuBord
Loving Heart
The "Loving Heart" was created for my wife for Valentines Day. The cedar elm wood came from a neighbors tree damaged in a wind storm. I'm a retiree who has been sculpting figures from salvaged tree limbs for about three years.
ddnodak@gmail.com
(214) 236-0772
Jeane Elliott Clayton
Sharing the Seeds of Love
I am interested in expressing the essence and mystery of being through various media.
The work is influenced by that which cannot be understood within linear time. There are moments in which the intangible ethereal are illuminated by light, texture, shadow; through nature, a fleeting moment- THE NOW-, or connection with various states of consciousness. This may be serious, playful, and/or everything in between.
Expressionistic symbolic narratives become my visual connection to personal expression.
www.artjecojeaneelliottclaytonoriginals.com
jeaneclayton@gmail.com
https://www.facebook.com/jeane.elliottclayton
https://www.instagram.com/art_jeco
Jeremie Fletcher Bourcy
Heart of Gold
I am a Graphic Designer, Illustrator and Mixed Media Artist who resides in Dallas, TX. Outside of creating my own artwork I also freelance design projects for clients, bands, organizations and several non-profits.
jeremie.fletcher@gmail.com
Jana Gibson
Ardent Love
Inspired by my background in metalsmithing, love for folk art, and spirituality, my painting reflects my love of ornate objects, folklore, and religious symbols. Handmade qualities, jewel tones and textures that I use in metal, I integrate into my paintings, creating pieces that tell a story and have a folk art, historical feel. While painting I tell myself a story and take a journey that is not planned out every time, but at some point, it clicks, everything feels right, and the story is complete.
janalynngibson@gmail.com
(972) 533-5644
https://www.instagram.com/tejasjewel
Erik Gomez
Vale Mas
I am an artist, designer and illustrator born in Chihuahua, MX but raised in Fort Worth, TX. My purpose is to embrace my Mexican heritage through art. Every piece is a love letter to my culture.
This piece is titled "Vale Mas" which is short for the saying "Vale mas tener lleno el corazon" translates to "It is worth more to have your heart full."
https://www.instagram.com/galleriadegomez/?hl=en
Gomez.vse@gmail.com
(682) 346-8925
https://www.instagram.com/galleriadegomez/?hl=en
Abigail Gutierrez
Ataque de Corazón
It's hard to appreciate artistic beauty in the chaos of a medical emergency. My time as a technologist, I have seen the way the heart can create it's own bypass to survive until it gets the attention it needs. I'd like to think that we are not just working on a person, but returning the natural flow of life saving blood to this amazing muscle.
This piece is an ode to all that I was able to learn in order to assist in elongating a person's life. The points in the upper right chamber representing the places ablated to stop extra electrical activity, re-do the circuit work of the heart. The silver of the vessels is the contrast that is injected to see the coronaries. Lastly, the stents. Incredibly small and delicate structures used to keep the vessels open.
I enjoy working in this side of cardiology and I am grateful to all my mentors who have helped me to be the best that I can be. I am proud of what I do and the second chances we provide to our community.
https://www.instagram.com/intro_gale/
Juan Hernandez
Heart Mask
Heart Mask is a painting from a series of Mask Paintings that illustrate the many figurative masks we might wear throughout our lives.
juan@juanjhernandez.com
Jessica Hills
Blue
I make art with an intention to process and work through what is going on around or inside me. Maybe it's something beautiful or something tragic, and that's where I find the inspiration. Through the use of mixed media, I'm exploring and working through my own emotions. The works are my reflections, and I hope others can interpret their own reflection because art is a connection.
https://www.instagram.com/jhillsart
Victoria Jackson
When Two Worlds Collide
A Texas native, my colorful work is intended to pay homage to my multiethnic background. Continuous themes of self identity, abstracted landscapes, Aztec and afrocentric symbols, ambiguous figures, and catholic iconography are brought to life utilizing bold color palettes and compositions. Though formally trained as a realist painter, I prefer to explore collage as well as mixing various mediums on unconventional surfaces. While I use a variety of materials and processes in each project my methodology is consistent.
https://www.vjacksonmahnke.art/
TXjackson91@gmail.com
(972) 838-0487
https://www.instagram.com/cholitaunikorn.art/
Nancy Lawrence
Pulling Strings
Our hearts are a multifaceted secret place. We can not see the different levels of opposite forces working within our souls, but we can feel them and recognize them when they come knocking like an old friend, so familiar. Tension, calm, growth, despair, fear, spirituality, bravery, love, hate, hope, positivity, confinement, and so many other feelings dwell deep in the heart and soul of a person.
I worked to visually convey the heart and its many conflicts, such as the ropes that are symbolically holding me in a place that I long to escape. Yet, continuing to stay centered in Christ to keep me stable, and seeking to improve myself in the midst of it all.
I love the journey of an artwork, the planning, the feelings, the process, and the final work that is more than I had initially visualized.
https://nancychlawrencestudio.com/
Nancy@nancychlawrencestudio.com
(214) 663-1105
https://www.facebook.com/NCHLStudio/
https://www.instagram.com/nancychlawrence/
Roxana Lucio
Flourita de Mi Corazón
I am fascinated with nature. There is a certain magical and mystical quality in the natural world that I see. I want to share this experience with others. As a young girl, my grandmother introduced me to collecting rocks. Whenever I would go visit her in Múzquiz, Coahuila she would always have new rocks to add to my collection. My collection consisted of various colored fluorite, fossils, and river stones. I became entirely captivated by these objects. In particular the purple fluorite. Purple fluorite is a natural resource of Múzquiz. I remember holding the fluorite to the light and admiring the deep purple hues. My rocks led me to take a closer look into the fields of Geology and Biology. As of late, I am experimenting in attempting to combine the two. A lot of my inspiration comes from rock collecting, my grandmother, old science textbooks and my imagination.
I use a variety of techniques such as drawing, painting, encaustic, collage and printmaking. In doing so, it allows me to experiment with many different kinds of mediums. I use surfaces such as paper, canvas and wood as my foundation. Then, I go in and add paint and drawn elements to begin developing my images. These images become intertwined and flow organically between one another. Through my work, I try to expose this sense of mystery and wonder that I feel with nature and the connection I have with the lands my family is from.
roxanalucioart@gmail.com
(817) 349-5976
https://www.facebook.com/roxana.jimenez.378537?mibextid=LQQJ4d
https://www.instagram.com/rox_lucio
Laurie Mahoney
Milagros del Corazón
American Artist Laurie Mahoney is a Dallas-based, award-winning artist. She has worked with natural fibers – in needle-felted paintings and sculptures – using fiber from sheep, goats, alpaca and silkworms. Another favorite medium: working with India ink pens as in her "Milagros del Corazón" piece in El Corazón art exhibition 2023.
Many of Laurie's exhibited works have been needle-felted paintings, which can take a year or more to complete. Inspired to participate in more gallery events throughout the year, she began experimenting with pen and ink and soon discovered that the stippling style, used in her whimsical drawings, was similar to the motion used in her needle-felted creations.
In addition to her one-of-a-kind creations, the artist enjoys collaborating with her husband, John, on creative projects such as tile mosaics, metal sculptures and lamp-working (glasswork in which a torch or lamp is used to melt glass rods).
Laurie Mahoney is a founding member and co-curator of the Dallas based SLANT artist collective, an artist-run gallery hosting exhibits to encourage art appreciation in the community. Her award-winning work (1st Place – 2012 "Texas Make It with Wool" contest and Best in Show – 2012 Texas Art Hotel's "Once Upon a Time") has been exhibited in both juried and invitational exhibits throughout the United States.
As a child, Mahoney experienced a geographically broad upbringing, living in eight states and Canada. Today, the artist makes her home in Dallas, Texas.
lmahoney@me.com
(214) 649-7753
https://www.instagram.com/lauriemahoney_55/
Romulo Martinez
Emotional fluctuation (Between softness and roughness)
As a person and artist, I have always had a strong interest in humanistic, social and introspective themes, which lead me to capture in my work, with documentary conceptions, both my own and others emotions with the intention that viewers can see themselves reflected in the work from the sensitivity and make them participants of the stories or dialogues represented, or, on the contrary let them nourish and give the work a new conceptual and narrative content.
I represent through bursts and auras, the emotions from a search for self-discovery in the various moods of emotionality and thoughts within picturesque, playful and surreal contexts, where human figures and natural or everyday elements in an allegorical and cartographic way seek to narrate a story. It is in this way that the series that defines my work Presences / essences was born, a work in which color plays a symbolic and conceptual role accompanying the representations to evoke feelings and sensations.
In my work I seek to express myself through experimentation with mixed media and various formalities between the two-dimensional and three-dimensional, using different techniques with their materials such as collage, assembly and construction, in the company of painting, drawing and the graphic arts such as serigraphy, stencils and photography, leading me to create modular proposals in dialogue with each other, interventions in space or installations.
Because it has autobiographical nuances, my work is an introspective, therapeutic journey, where I seek to heal and reconcile the thoughts and memories in the historicity of my personal life, looking at the past through meditation and reflection to think about the present and visualize the future with the hope of being able to give myself and others certain statements that awaken enthusiasm and courage in their beings no matter the changes that life presents us.
www.facebook.com/romulomartinezart
www.instagram.com/_romulomartinez
Margo Miller
Consumed
Ms. Miller's commanding use of bold color stimulates the viewer and she often uses metallic elements like the gold foil border on this piece that give her art a shimmering effervescence. She strives to engage the viewer while expressing the beauty and complexity of life. This piece utilizes some of the blackest paint available to increase the depth of the background.
Ms. Miller also works with marble and other stones, creating small artworks based on nature. She loves the way the seemingly immovable stone is transformed under her hands.
Ms. Miller volunteers with various non-profit groups working with children including painting murals in Dallas and Nepal. She believes that giving is a way to multiply the joy one receives from life.
mghlee@att.net
Kimberly Samples
Golden Burl Heart
Artist Statement – Proud to present -"The Golden Burl Heart" – Taken From My Just to Say I Love You Collection – Using Rare and Exotic woods from all over
the world. Each Heart is unique and takes many Days to complete. I realize a great deal of personal satisfaction creating each of my Hearts in the collection. Always astonished at the results of the natural beauty of the different Woods.
https://www.etsy.com/shop/CruzNatural
Ksmarsau@gmail.com
(972) 215-8471
Lee Schwimmer
Lev 1 לב
This mixed media piece is part of an ongoing series of heart shapes, explored in a variety of media.
The word, "lev", in Hebrew is often translated as heart. Its deeper meaning is more nuanced and extends beyond the human organ that pumps blood to include concepts such as mind, emotions, character, consciousness, soul.
Until recently, most of my work in this series has been in fabric, having been initially inspired by Texas artist Valerie Komkov Hill. Thereafter, my journey into the world of mixed media has been led by Kasia Avery and her collection of teachers, who offer art journaling classes internationally via the online format. I offer my heartfelt gratitude to them and to all who influence and encourage my artistic path.
We are all both students and teachers.
schwimmerarts@gmail.com
https://www.instagram.com/Lee_schwimmer
Sabine Senft
#10 Right On Track Apart
#10 Right On Track Apart is heart #10 in my El Corazon series. Each of them explores the physical or psychological world around us. This one is a study of digressing pathways in a personal and socio-political sense. Have you been there before? Usually, digressing is a negative thing, taking you off the most direct road to your destination. We often think of detours in life as frustrating occurrences and simply inefficient. Yet, without such detours, we would be forever limited in our thinking.
Often, this apparent digression from the original destination results long-term in a better place we find ourselves in.
When we take these detours in life, we see something different – and learn a different way of seeing, of being and of valuing. And we are never the same afterwards, yet still right on track.
Sabine Senft is an interdisciplinary artist whose practice bridges sculpture, public art, mixed media and video, often bringing together unlikely, symbolic elements in a single installation. She creates balanced yet poignant works that merge the personal with a wider socio-political narrative and reflect her ongoing investigation of individual and collective human agency.
sabine@sabinesenft.com
(713) 550-6437
https://www.facebook.com/sabine.senftart
https://www.instagram.com/sabinesenft/
Michelle Torres
Siete Espadas
My work is about how a woman's heart is powerful. I wanted to reflect inner strength in this piece. Even our deepest sorrow can makes us stronger in the long run. I was inspired my Mary and her seven sorrows, and was inspired by the renaissance painters was of painting. Caravaggio's chiaroscuro styled paintings influenced my work as well.
www.michelletorreshernandez.com
michellelaartista@gmail.com
www.instagram.com/Michelletorreshernandez
Stacy Vasquez
The Guarded Heart
Dr. Stacy Vasquez, Professor of Biology at Dallas College-Mountain View Campus, uses his love of art and science as inspiration to create his work and to enrich his students' learning experiences. "The Guarded Heart" represents those who are cautious in allowing others to access the contents of their heart, thereby requiring a combination. With enough time and trust, perhaps the numbers will be provided.
https://www.linkedin.com/in/stacy-vasquez-34112874
Jana Voigt
My Three Hearts, triptych
I am a Dallas based artist and perpetual student born and raised in Dallas. I work primarily with oil paints, and also enjoy working with oil pastels, chalk pastels and charcoal. White Rock Lake was a favorite place of my youth and holds many heart memories for me. I have a heart for many things, family, animals, friends, travel, museums, food, art, history. My Three Hearts triptych reflects thoughts of humanity, as out of many, we are one. What do you have a heart for? Find your heart and do your art!
Janavoigt1@gmail.com
(214) 912-1975
Kat Warwick
Entangled
Love, in it's pure form is not complicated… until we layer on our belief systems, our fears, our prejudices, our need to control our surroundings… At that point the purity of love can be tainted and twisted into an illusion of love. Purity entangled with fear and illusion… can become something else. Is Entangled a lovers sweet caress or a controlling jealous entrapment? Only you can decide.
I once read, "If you know you cannot fail, what would you attempt to do." I removed the concept of "attempt". If I know I cannot fail, I will do. I will create. I will use my unique gifts to enrich the world around me.
I am a sculptor and a teacher, using art to bring joy and deeper understanding into the world, one sculpture and one classroom at a time.
When I think about what I do, I realize that while I am seen as a sculptor, what I am truly doing; is creating, preserving and sharing stories. Each sculpture created has the seed of a story within for the viewer to consider or debate. Sometimes the sculpture's story reveals itself as it is being created. Sometimes the sculpture keeps its story hidden, waiting for the right person to discover its secrets.
If the viewer simply needs respite from the challenges of today's world my sculptures offer beauty and joy with no need to look deeper for the mysteries hidden there.
Stone and steel, bronze and glass, clay and color, sun-light and shadow-dance, stories started with endings left unspoken… Art is a mystery to be discovered. Art is personal, and I invite you to enjoy the beauty of my work in your own unique way. Let it bring joy or inspire you to discover different points of view and deeper truths.
kat@theartlifeway.com
(469) 708-2780
https://www.facebook.com/theartlifeway
https://www.instagram.com/theartlifeway
Keith Williams
Blue Fem Double Heart
This picture is a drawing on watercolor paper. The heart is an integral part of my composition. It is vital to the body and life itself and can be a strong symbol. Anatomy and Biology are important ideas in my art. In this drawing the woman's face is looking back at the viewer, engaged. The emotional connection is important to my artwork.
Narratives arise as I create my art.
keith_lw@yahoo.com
(214) 212-4879
Wendy Woodring
Anahata-Heart Chakra
Painting hearts connects me with the emotions with which I vibrate. The heart is located in the center of the chest, it is the fourth chakra represented by the green color called Anahata. A balanced heart can support harmony and facilitate the divine experience on earth.
designs.storming@gmail.com
https://www.facebook.com/StormingDesigns
https://www.instagram.com/storming.designs.sa/
Sharon Zigrossi
Te Amo Mas Que La Cerveza ( I Love You More Than Beer)
The heart center is a piece of red car reflector that is covered with bottlecaps and other found pieces to symbolize the sacred heart. It is attached to a small Ford hub cap that is created to represent the Virgin Mary with the muted jewel tones and roses. The flame of eternal love was made by collaging sheets of Leo snack food wrappers. The canvas base is covered in manipulated bottle caps with some twisted as thorns. Since I used so many beer bottle caps I thought it was appropriate to name this assemblage art piece "Te Amo Mas Que La Cerveza I Love You More Than Beer"!
Sharon Zigrossi started using hub caps as her 'canvas' over 13 years ago and now she has a large collection of rescued hub caps waiting for their turn! Her business, Blooming Hub Caps, began with the first sunflower hub cap painted for the garden and has developed into intricate assemblage art pieces.
Sharon loves to share the fun of creative recycling with others and teaches hub cap painting workshops. Her art is available on ETSY.com and locally at Makers Connect and has been displayed at juried shows at the Bath House Cultural Center, Texas Discovery Gardens in Dallas, Gallery On The Square in Alpine and as a featured artist at the City of Lubbock's "Hot Wheels" Art Festival.
Sharon's art is sold on ETSY.com and locally at Makers Connect in Dallas
https://www.bloominghubcaps.com
bloominghubcaps@gmail.com
https://www.facebook.com/bloominghubcaps
https://www.instagram.com/bloominghubcaps
Jessica Zuniga
Heart of the Legs
Hi, I am J. Zuniga. Grew up in Oak Cliff. Undergraduate student for DCCCD and a current student for University of Maryland as Bachelors of Arts in Fine Arts. I am a local artist and sold over 70 mediums of all kind, written over 6 books that are sold at the Barnes and Noble world wide. I am considered a renaissance artist. My perceptive for my creation represents health. I focused on the cardio along with the legs. Not only but a 3d background and vibrant colors with shapes and lines.
jessicazuniga@godaddysites.com
artmafia28@gmail.com
(469) 793-2733
https://www.facebook.com/jessicazunigavisualfineartist