26th Annual El Corazón Exhibition
February 11-March 20, 2021 • Curated by Jose Vargas
After months of closures due to renovations and the pandemic, the Bath House Cultural Center is beginning a gradual reopening of its gallery programs. In February of 2021, the center is hosting one of its most popular events: the 26th annual El Corazón exhibition.
Just like in previous installments of the El Corazón exhibition, the curator of the show, Jose Vargas, has selected a wonderfully eclectic collection of art pieces, in different media, that are inspired by the human heart (El Corazón), which is seen by many people as a powerful symbol and a truly inspiring theme in art.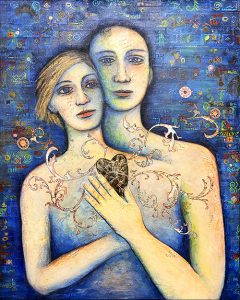 The concept of this show carries a special meaning in the middle of a public health crisis as the image of the heart can be perceived as the exemplification of the resilience, fortitude and unified strength of our community.
Since the first time the exhibition was presented, in 1993, the Corazón exhibition has generated great interest and excitement among artists and the public. The exhibition has only been interrupted twice in its history at the Bath House. On both of those years, the building was being renovated.
The curator states that the basic idea for the show came from a picture of a heart, pierced by an arrow, that was printed with the number 27 and the words "El Corazón" on one of the cards of the popular Mexican board game, Lotería, a game that is somewhat similar to Bingo.
As a token of appreciation to the artists who have supported the art programs of the center in the past, the curator has selected works of art that graced the walls of the Bath House gallery in recent Corazón exhibitions. The art show features works by thirty-two artists from the Dallas-Fort Worth Metroplex and Waco area.
Participating Artists: Mirtha Aertker, Olga Arredondo-Brock, Rita Barnard, Kim Carothers, Jim Chupa, Sharin Clark, José Cruz, Patricia Curry, Lynn Eskridge, Jacque Forsher, Nick Glenn, Rebecca Guy, Juan Hernández, Bobbie Howard, Karen Jacobi, Janine Maupin, S. Chuck McCarter, Julia McLain, Tina Medina, Kelly Morris, Sharon Neel-Bagley, Liliana Ramirez, Rocio Ramirez Landoll, Lesley Rucker, Martha Samaniego Calderón, Joe Sarate, Armando Sebastian, Linda Stokes, Diane Torres, Samuel Torres, Jose Vargas, and ME Wilcox.
The exhibition is being presented in person and online. To make an appointment and read more about the health and safety guidelines for viewing the art in person, click on the Make an Appointment button below.
A price list for this show is available upon request. Sales are conducted between the artist and the buyer. No staff is involved in any art transactions.